Tag Archive for 'Volvo Construction Equipment'
Revealing the toughness, versatility and intelligent engineering behind Volvo CE's full range of excavators, the film tests the limits of heavy equipment during an exhilarating and entertaining army boot camp, led by drill instructor Dolph Lundgren. The 80s powerhouse behind films including Rocky IV, Universal Soldier, and The Expendables drives the action in a cinematic display of man against machine.
In the film – a comic nod to the action movies that Dolph Lundgren is renowned for – a line-up of Volvo excavators weighing between 1.5 to 95 tons are put through their paces in an exhausting assault course.
During a series of extraordinary stunts, the machines are seen pulling Dolph Lundgren atop a huge concrete block across an unknown desert location, flipping gigantic tires across a muddy track and taking part in what is thought to be the world's first ever excavator pull-up – fulfilling the film's final message that they really are 'excavators for any challenge'. All of this is set to the iconic beat of the 1989 hit song 'Pump up the Jam' by Belgian music group Technotronic.
Bill Law, Senior Vice President of Corporate Communications at Volvo CE, said: "This is a good demonstration of the flexibility and strength of our excavators, from the small to the mighty. The result is a feel-good mini-movie with Hollywood impact. Some of these stunts are a little out of the ordinary, but we wanted to be daring and set ourselves a challenge to push them further. Our excavators work hard every day at construction sites all over the world, something that requires precisely that power and stamina, together with skilled operators behind the wheel."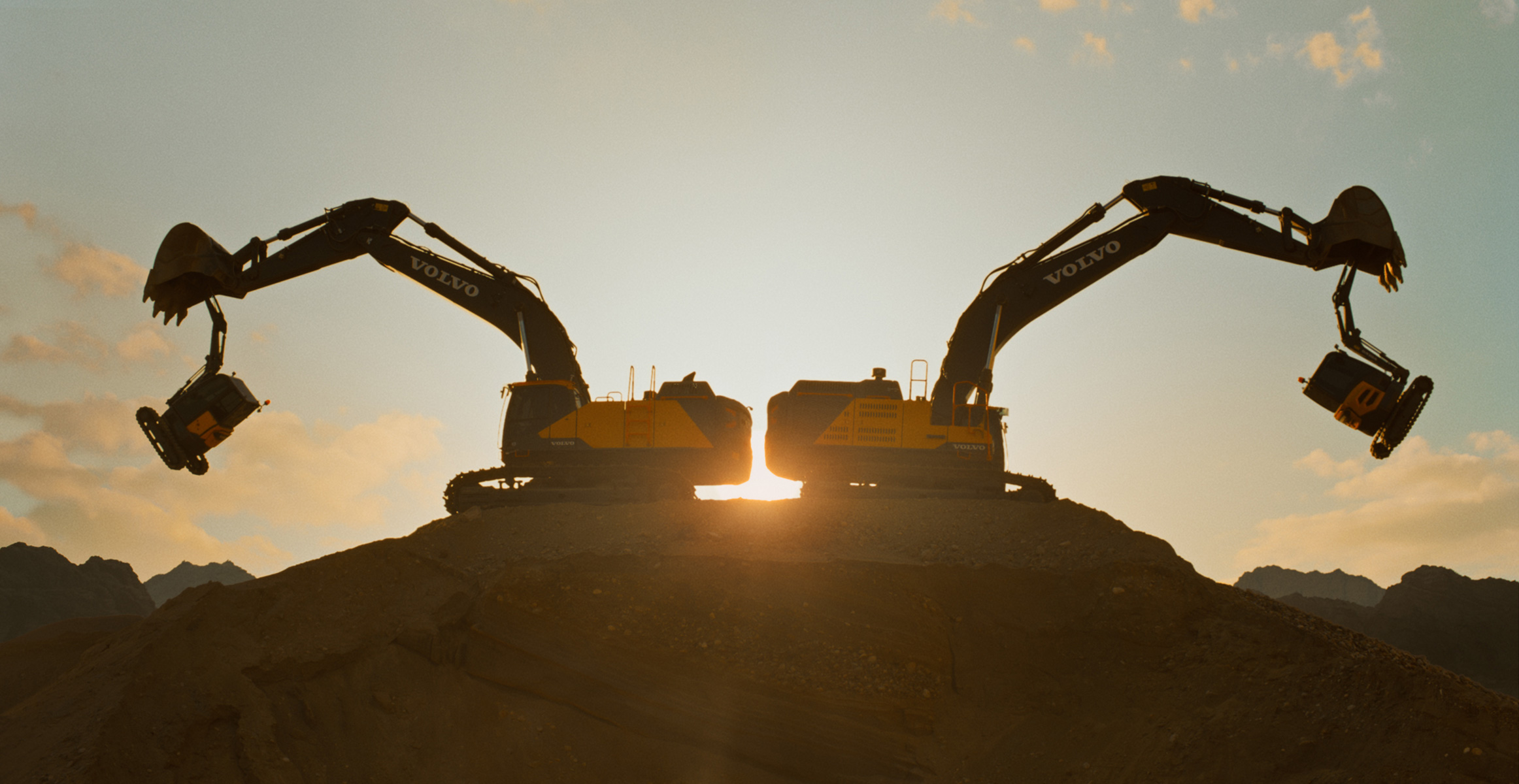 Dolph Lundgren has starred in major Hollywood productions for more than 30 years and is currently enjoying a surge in popularity thanks to leading roles in new Hollywood blockbusters Creed II and Aquaman, both out later this year. With a background in engineering and a scholarship to the renowned US university MIT, he is well matched against the brains and brawn of Volvo's excavator range.
He said: "This job was probably the most unusual role I've ever taken on. It was fascinating to see Volvo's excavators and its skilled operators performing all the various physical exercises – with absolutely no movie stunts involved. Honestly, I didn't think it was even possible. Being born in Sweden, I have a long relationship with this classic Swedish brand. As a young boy, I rode in the back of my dad's Volvo. To me, Volvo represents some great Scandinavian values, like clean design, excellent quality and a true care for the environment. I'm really pleased to get this opportunity for us to work together."
Few machines are as versatile as the excavator. This campaign highlights the ability of Volvo excavators to deliver optimum power and performance for almost any task. While pull-ups and tire flips are not everyday activities, these stunts are entirely authentic and were carried out by professionals in a safe, and closed environment. In the real world Volvo's range of machines can be relied on for everything from site preparation, trenching and excavation to demolition, truck loading, and pipe laying.
Click here to watch a mini-documentary on the film.
For further information, please visit volvopumpitup.com.
A quick refresher on getting more out of your excavators, safely, from Volvo Construction Equipment
– Volvo Construction Equipment has made several changes to its dealer network over the last year, adding new dealers, and in some cases, expanding veteran dealers' territories.
– The moves reflect the company's strategy to outperform the competition in three key areas: providing the highest uptime values in the industry, offering unique solutions to customer business challenges and raising the lifecycle value of its machines.
Volvo Construction Equipment's (Volvo CE) North American dealer network has seen a number of changes over the last year. Dealerships have changed hands, territories have expanded and new players have emerged on the scene to sell the company's premium equipment and offer its services. The moves all help deliver customer value in three key areas: uptime, unique customer solutions and machine lifecycle value.
The new dealers that have become part of the Volvo CE network are all seasoned, veteran companies with extensive histories in their regions. They know their markets and customers well and are uniquely capable of helping Volvo CE achieve its strategic goals. Several of the dealers have shown prior success in selling Mack and Volvo Trucks, for example, while others have long been tied to Volvo CE, but are now offering sales of its equipment.
The new dealers include:
– Housby Heavy Equipment, in Iowa
– Wise Heavy Equipment, in Nebraska
– TranSource Truck & Equipment, in South Dakota
– Hawaii Truck Parts, Sales and Services, in Hawaii
– Alta Equipment Company, expanding territory to Illinois
Stephen Roy, president of Volvo CE North America, said the company's strategy is a result of extensive market research to learn just what customers want and need from the industry, and that these dealers are well-positioned to deliver on the company's goals.
"When I came on board as president in 2017, I immediately set out to hear from customers across the Americas," he explained. "Customers need more uptime from their machines. They also need more consulting from our experts to come up with unique solutions to their business problems. And they want higher residual values from their equipment partners. With these updates to our dealer network, we are positioning Volvo CE to compete — and win — the market in these areas."
The times they are a-changing
The dealer network updates come at a crucial time for the industry when innovation and new technologies are set to permanently alter the sector. The new dealers have all pledged to align their strategic priorities with the company, embracing the focus on uptime, unique customer solutions and maintaining machine lifecycle values. They have joined the entire Volvo CE dealer network in undergoing intense training with Volvo CE and a variety of third-party experts to become equipped for these strategic goals, as well as the changing marketplace.
To win in uptime, for example, dealers need to become experts in areas such as telematics and predictive analytics. Dealers of the future could have "uptime managers" or other roles that support the industry's shift toward outcome-based business models (such as generating efficiencies and ensuring all downtime is planned). Dealers will shift toward offering construction companies services that are more consultative, helping them manage costs, fleets, human resources, new technology and more.
Volvo CE dealers are already thinking this way. A significant portion of them are already highly engaged with ActiveCare Direct, and as new dealers come on board, they too will become experts in using the industry-unique telematics and remote monitoring system to increase uptime for their customers on their job sites. A recent, notable example is Flagler Construction Equipment's use of the program on more than 70 machines for Florida's I-4 Ultimate megaproject.
"We have ActiveCare Direct on all of the excavators being used on the project. It's very important to us," explained Tommy Ball, senior vice president of Flagler. "Volvo monitors ActiveCare and we also actively monitor it through our field service support center in Orlando. It really works out great for us — not only does it save us time, it saves the customer downtime."
Similarly, Volvo CE is working with its entire dealer network on programs that offer unique solutions and boost machine lifecycle values, both of which the company will soon be announcing to the public. Until then, the focus remains on enhancing the capabilities of the company's dealer network, with an eye toward helping them become the dealers of the future.
"It's quite an exciting time to be a part of Volvo CE, and particularly to become one of our dealers," Roy explained. "We aim to be a company that is easy to do business with, and that means making it easy to partner with us, but also it means that we have to equip our dealers for the future. New innovations, new ways to provide services and new market dynamics are all on the horizon, and Volvo CE is ensuring that our dealers will take the lead."
Volvo Construction Equipment moves into a new dimension to assist customers in supplying spare parts and as part of its commitment to the research and development of new products.
As the construction industry looks to new methods for efficient production, equipment manufacturers are likewise exploring additional ways to boost productivity. Volvo CE has introduced 3D printing in order to deliver spare parts to customers more quickly and efficiently. The company is also investing in 3D printing methods in the research and development of its prototype machinery.
"We are supporting customers through the life cycle of their equipment," says Jasenko Lagumdzija, Manager of Business Support at Volvo CE. "It's especially good for older machines where the parts that have worn out are no longer made efficiently in traditional production methods. Producing new parts by 3D printing cuts down on time and costs, so it's an efficient way of helping customers."
ADDITIVE MANUFACTURING BENEFITS CUSTOMERS
Additive manufacturing – as 3D printing is commonly known – is the process of repeatedly layering a molten material or liquid in a specific pattern that is set by the printer's software, until it solidifies into the required three-dimensional shape. For its aftermarket service, Volvo CE commissions the creation of spare parts made of thermoplastics to send to customers who require the replacement of a part that has worn out through natural usage.
Parts can be made of any shape and size, and for any unit in Volvo CE's range of off-road machinery. Typical parts made by 3D printing so far include parts of a cabin, plastic coverings, and sections of air conditioning units. The company uses its own archive of drawings, 3D models and product information to feed into the printer to produce the correct new part.
"The customer is getting exactly the same part in replacing plastic with plastic," says Annika Fries, Aftermarket Branding Manager at Volvo CE. "We do a lot of quality assurance – the 3D parts have the same specifications and go through the same process as the original, and get the same warranty, so customers can be confident they are getting a genuine Volvo approved part."
QUICK AND EFFICIENT RESPONSE
The creation of new parts via the 3D printing process can take as little as one week. Fast delivery of required components maximizes the uptime of customers' equipment, and the ability to supply new parts to replace those that have gone out of normal production may also extend the lifetime of the machine as a whole. Parts made of metals through additive manufacturing may also be offered in future.
"Lead-times are significantly reduced with 3D printing and since there are no minimum order quantity requirements, we benefit from quicker delivery of parts, lower inventory levels in our warehouses and an improved ability to balance supply and demand," says Daniel Kalfholm, Project Leader for Aftermarket Purchasing for Volvo CE's EMEA region. "And it can all be carried out a purchase price that is comparable to that of a traditionally manufactured component."
MOVING FORWARD WITH PROTOTYPING
In addition to 3D printing being an increasingly desirable element in the production of aftermarket parts, the process is also being used by Volvo CE in building new components for prototype machinery. The company has several 3D printers for this purpose at its research and development premises.
"As we only need to produce low volumes of parts for prototyping, it's a good way to see what works," says Fredrick Andersson, Development Engineer for Wheel Loaders Powertrain Installation at Volvo CE. "We have a lot of knowledge and we can make changes quickly and easily with 3D printing. And because of this, it means that the time to market for a new product is quicker, so it's of great benefit to our company."